The Blue Ridge Parkway & Memphis
By Alex Saveliev
Alex Saveliev is not your regular teenager. Born in a family of ballet dancers whose passion for performing took them around the world, he has spent his life traveling with them — and, in the process, fell in love with traveling as a passion of his own. Dodging a pack of wild lions in the Kalahari Desert, climbing the steep hills of Machu Picchu, tasting a chef's menu at the world's top restaurant — you name it, he's done it. Having traveled to more than 200 cities on 5 continents, he loves discovering new places — and sharing what he finds.
THE BLUE RIDGE PARKWAY
On Top of the World
Google the most scenic drives in America — chances are, the Blue Ridge Parkway will end up near the top of any list. Beginning in the Shenandoah Valley in Virginia and ending in Cherokee, North Carolina, the parkway winds through some of America's most beautiful national parks. Driving along the ridge of the Appalachian Mountains feels like being on top of the world — and it kind of is, with elevations reaching 6,684 feet, taller than any mountain on the East Coast. With mountain ridges filling the horizon as far as the eye can see, these are some of the best vistas in mainland United States. Each of the 469 miles offers a different view, with bends and overlooks reminiscent of Nicholas Roerich's famous impressionistic paintings.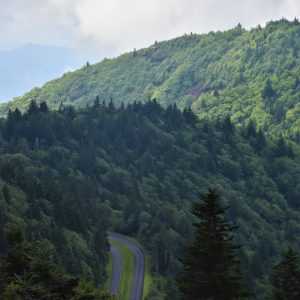 Historical Roanoke
To fully appreciate the beauty of the Blue Ridge Parkway, you will want to plan overnight stops along the way. One of the best places to visit is Roanoke, VA, located near the middle of the route. An important hub of trails and roads in colonial times, the town's hotels and eateries are steeped in history. Hotel Roanoke has welcomed guests to the Roanoke Valley since 1882 and offers a sense of the past without foregoing the comforts of the present: its historic exterior houses newly renovated guest rooms, complete with complimentary WiFi, of course.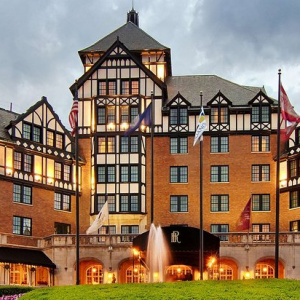 Great Smoky Mountains
Continuing the drive through the Great Smoky Mountains helps explain the origin of their name: the white clouds flow over the top of the mountains and slowly roll down the mountainsides. This magical sight is best viewed from Mount Michell — the tallest mountain peak east of the Mississippi River. The parkway takes visitors almost to the summit, from which they can enjoy a 360° scenic view of the rolling hills and sharp cliffs — a sea of rocks covered by a seemingly infinite blanket of green pines.
Where Rocks Can Sing
If you happen to like rocks, you're in luck — the Blue Ridge Parkway offers breathtaking views of rocks not only above ground, but also below. It is lined with some of America's most beautiful caverns, each located a short drive off the parkway and filled with unique features worth exploring. Bristol Caverns features an underground river that flows 180 feet below the surface. Linville Caverns amazes visitors with awe-inspiring rock formations — stalactites and stalagmites that took more than 200 million years to develop. And if you've ever wondered how rocks can sing, visit Luray Caverns, home to the world's largest musical instrument: The Great Stalacpipe Organ. It uses rubber mallets to gently tap stalactite formations and produce eerie, otherworldly music unlike any other you may have heard before.
Vanderbilt Estate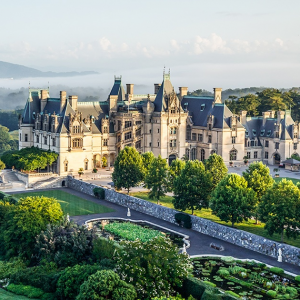 One stop definitely worth exploring along the Blue Ridge Parkway is Biltmore Estate — the Vanderbilts' magnificent family home. Famously the largest private house in the United States, it spans over 8,000 acres and boasts an impressive main house, which might as well be the set of Downton Abbey. Built more than a century ago, it accommodates a bowling alley, a Banquet Hall with a 70-foot ceiling, a library of 10,000 volumes, 65 fireplaces, and priceless artifacts from George and Edith Vanderbilt's original collection.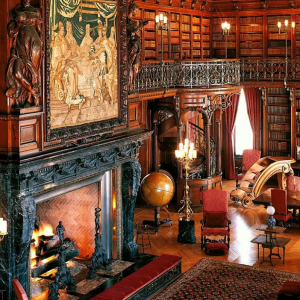 If you love history, hiking, nature and everything it has to offer, look no further than the Blue Ridge Parkway — and see for yourself why it is the most visited national park in America.
MEMPHIS
Graceland
You may know Memphis as America's official "home of the blues". But, the most famous home this city is home to is Graceland — the estate where Elvis Presley, the King of Rock'n'roll, was said to spent the happiest years of his life. Graceland welcomes over 500,000 visitors each year. It is one of the five most visited home tours in the United States — and is the most famous home in America after The White House. The Graceland tour, of course, includes the house in which the King lived — but it's so much more than that. Graceland is an entire complex of properties that also includes Graceland Plaza — a shopping center with official Elvis memorabilia, Elvis Presley Automobile Museum — a collection of the King's exuberant costumes, and two of the three jets owned by the legend. When Elvis found out that Lisa Marie, his only daughter, wanted to see snow for the first time, he ordered his private jet to fly her out to Idaho, so that she could play in the snow for 20 minutes before flying back home. Splurge on the Ultimate VIP Tour — and you too could feel like a child of the world's most famous entertainer on board of "Lisa Marie," the jet obviously named in her honor.
Living Like a King
Those who might want to take more than a day to enjoy the Elvis experience can stay at The Guest House at Graceland, a 450-room resort hotel which has been awarded AAA's prestigious Four-Diamond rating and offers a range of contemporary facilities, including two restaurants, meeting spaces and a 464-seat theater for live performances. Living like a King was not cheap — and neither is the top-of-the-line Elvis experience at Graceland. The Ultimate VIP Tour costs $184 and includes access to all parts of the estate, complete with exclusive photo ops and a keepsake "backstage pass." A car aficionado like me would probably start the tour by heading straight to the Automobile museum. Elvis loved antique luxury cars, and the museum displays 20 of his custom-outfitted favorites, including his Pink Cadillac, a 1975 Dino Ferrari and a 1973 Stutz Blackhawk. It also features some of his favorite motorbikes.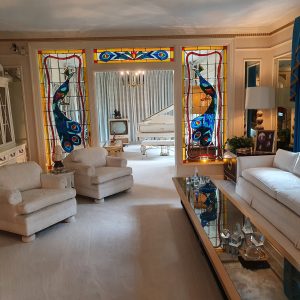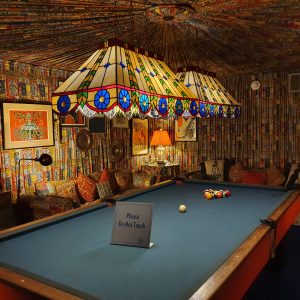 Jumpsuits, Capes & Leather Belts
The iconic jumpsuit, which became Elvis' trademark stage wear in the 70s, was designed by Bill Belew — and Elvis The Entertainer Career Museum showcases 16 of his most flamboyant, bejeweled costumes with elaborate metal rhinestone studding, matching capes and coordinating big-buckle leather belts. Over his nearly five-decade career, Belew created stage costumes for many stars including Josephine Baker, Ella Fitzgerald and Gladys Knight — but he found his ultimate inspiration in the King of Rock. He said, "Bob Mackie had a perfect muse and a perfect canvas in Cher. I got to have that in Elvis."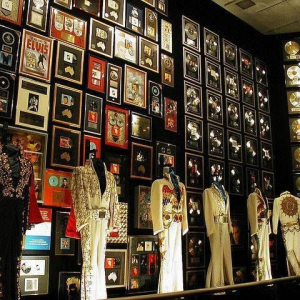 The Ultimate Man Cave
The crown jewel of the Graceland Estate is the Graceland Mansion. The King lived large — and each room in his house is as vibrant as its inhabitant's personality. The formal Dining Room made the King truly feel like royalty with regal chandeliers, palace-like drapes and a large marble-top dining table. And why choose a channel when you can have all three TV's in the TV Room playing different channels at the same time? The Pool Room, covered with hundreds of yards of pleated paisley fabric, looks like a cave — and then, of course, there is the ultimate "man cave": The Jungle Room. This, no doubt, is where the King liked to connect to his wild side, sitting on real bear fur-covered sofas set on wall-to-wall shag carpet made to resemble real grass.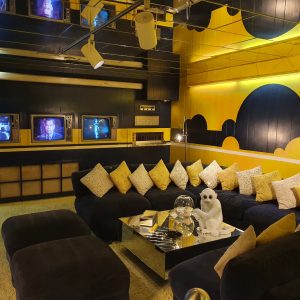 Beale Street
As impressive as Graceland is, it is, of course, not the only reason to visit Memphis. Known as the "Birthplace of the Blues," Beale Street is considered to be one of America's most iconic streets and Tennessee's top tourist attraction. This is where W.C. Handy, known as "the Father of the Blues," popularized the art form in the early 1900s and paved the way for later generations of legendary musicians, including Louis Armstrong, B.B. King and Bessie Smith. Today, the Blues can still be heard on Beale Street, but there are also other genres to enjoy — Jazz, Soul, Fusion, Reggae, Gospel and Rock. Hard Rock Cafe, Pig, Blues City Cafe & the Band Box are just a few places where you can take in the sounds of Beale Street and beyond.
The Father of Barbecue
If feasting your senses on jazz and blues is not enough, there is yet another feast for which Memphis is well known: the world-famous Memphis-style barbecue. O'Sullivan's Irish Pub, located in the heart of Beale Street, is a perfect place to sample what the locals consider the world's best BBQ. Have trouble finding it? Just look for the pet goats outside. Legend has it that Silky O'Sullivan, the "Father of Barbecue," started the barbecue craze with the contests he held in his native Ireland. The custom has spread to other countries — and has found a perfect home in Memphis.
Whether you come to Memphis to pay your respects to the King of Rock'n'roll, take in the sounds of the blues, or feast on the world-famous Memphis-style BBQ, one thing is for sure: this is bound to be a trip you will not soon forget.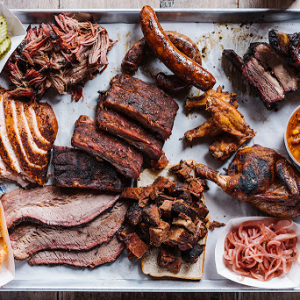 https://sociallifemagazine.com/2021/01/12/the-blue-ridge-parkway-memphis/
To Find More Information, Go To Saubio Digital And Look Up Any Topic
Please follow and like us: Share This Post
This means, you take one article, and you use the article distribution system. It will generate thousands of unique versions of your article, and publish those unique articles to hundreds of websites that are related to your niche.
Take a look at our comprehensive guide to the best and most popular information ebooks and products available today on Detoxing, Colon Cleansing, Weight Loss and Dating and Romance. They are all in one spot, easy to find and compere to make a quick selection for the product that best fits your needs or wants.
So browse through a category and make your  preferred selection and come back here to read  more choice articles and get a few more helpful tips on ways to help your enhancement.
Detoxing Reviews
Colon Cleanse Reviews
Weight Loss Ebook Reviews
Dating and Romance Ebook Reviews

As an Amazon Associate I earn from qualifying purchases. "
saubiosaubiosuccess.com
is a participant in third party affiliate and advertising programs; The Amazon Services LLC Associates Program, and other affiliate advertising programs are designed to provide a means for sites to earn advertising fees and commissions by advertising and linking to products on other sites and on Amazon.com. Amazon and the Amazon logo are trademarks of Amazon.com, Inc, or its affiliates."