David Datuna: Portrait of America
You Are Invited
David Datuna's "Closing Eternity" unveiling
Friday May 31st
8am – 8pm
2. David Datuna Gallery Opening
Thursday June 20th
5:00 PM – 9:00 PM
43-05 Vernon Blvd
Long Island City
Cloning Eternity
New York based artist David Datuna will be unveiling his two-part installation entitled "Closing Eternity" at a day-long "Art Happening" in Washington Square Park in NYC on Friday, May 31st. The two-part installation will consist of a perfect circle representing the ancient symbol of eternity and a skull representing life. The pieces that created the sculpture are made from the artist's signature eyeglass lenses that create a 'hall of mirrors' effect, by reflecting the viewers image, distilling it and refracting it back towards them. "Closing Eternity," along with other work of David's, will be on display at the opening of his new Long Island City gallery at 43-05 Vernon Blvd on June 13th; all are invited.
Untitled_Message (1)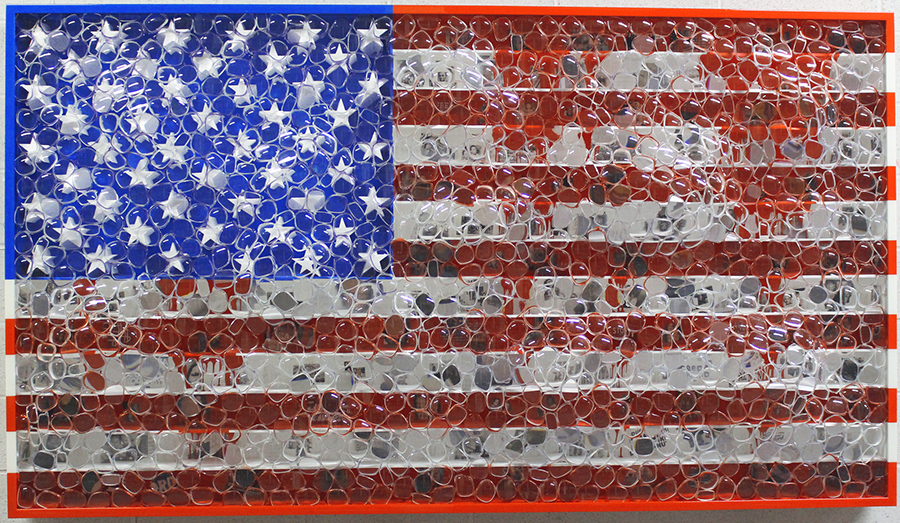 Flags and Eyeglass Lenses
Much of Datuna's work involves flags and eyeglass lenses. People call him "flag man" because he uses flag forms. "Flags, for me, are living organisms. It's not just the banner of the country; it's a living organism, because, we all together, we make the living organism." The lenses, he says, became his medium because he worked for many years in an optical store. "It's like our view. It could be positive or negative; it's all different perspective."
The National Portrait Gallery
David Datuna's artwork "Portrait of America," a 12-foot American flag, was the first public installation to incorporate Google Glass, and it was a sensation when it was shown at the Smithsonian Institute. "It was their biggest show in the last 36 years," Datuna says. In the piece, he laid a layer of 2,000 eyeglass lenses across portraits of the country's greatest innovators. Adding the Google glasses, viewers see video and audio clips of important moments in American history. "I connected together art and lifelike technology through Google Glass," says the artist who immigrated to the U.S. from Soviet Georgia.
Datuna's Documentary
In the award-winning documentary "Datuna: Portrait of America," filmmaker Brian Bayerl followed the artist for one year, in 2013 and '14, as he traveled with his works to Miami, Russia, New York, and DC. During the filming, Datuna was diagnosed with cancer, adding a dramatic personal element to this period of his life. "The movie is very real. It's what exactly happens in one year of my life, how I'm fighting with cancer, pushing my project and my ideas, how my friends helped me stay around." His cancer is in remission, and he is very active.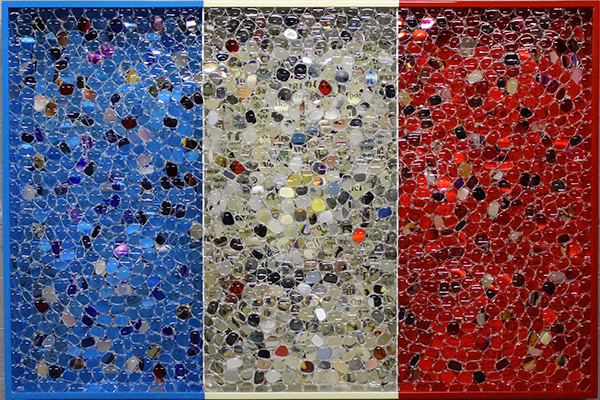 57 countries in 3 years
For the past three years, Datuna stopped working and took a trip around the world, visiting 57 countries, including India, Pakistan, South America, Russia, Europe and more. "I wanted to see the lives of people, to share life there, and it was great." He stayed with regular people, not in hotels, to try to learn what life is like in each country, and to try to understand our planet. "I think maybe I'm not there yet, but very close."
New studio
Datuna is now back in New York and creating artwork in a new studio in Long Island City, under the Queensboro Bridge. "I think it's another step in my career." He has a lot of new pieces coming out and is even tinkering with some older works. "With lenses, I redo it and it looks like an absolutely different concept." datuna.com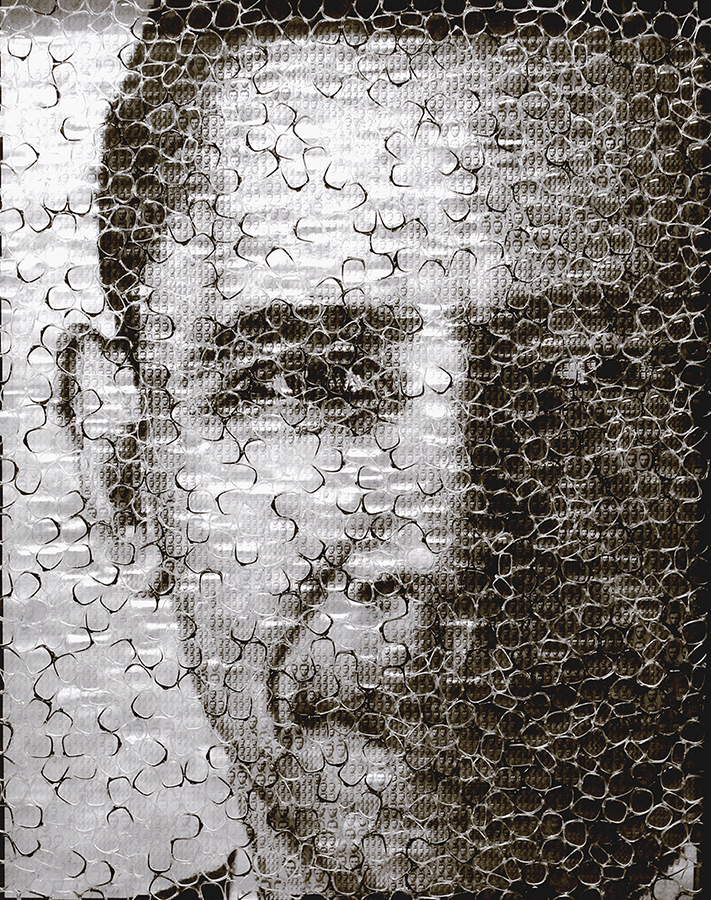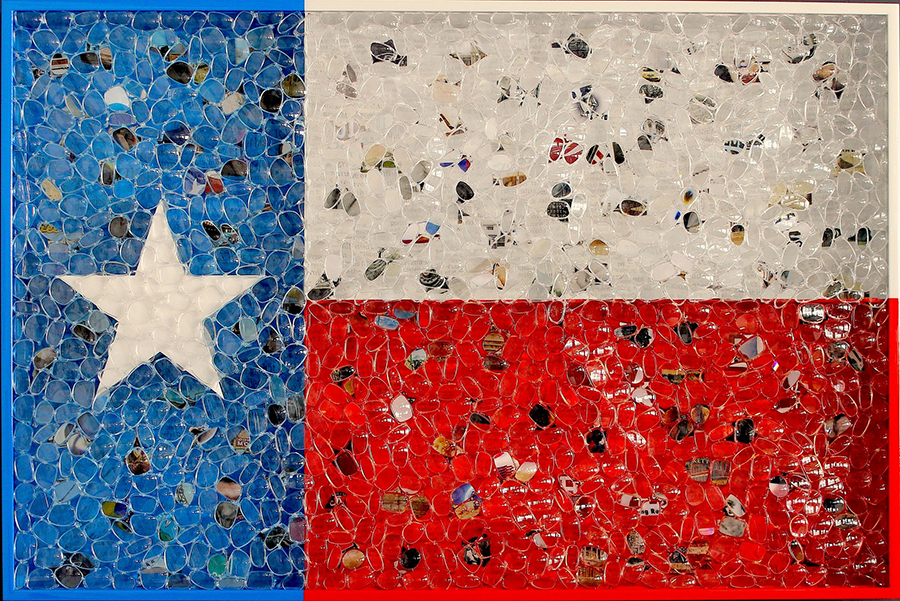 #post_link#
Please follow and like us: Share This Post
This means, you take one article, and you use the article distribution system. It will generate thousands of unique versions of your article, and publish those unique articles to hundreds of websites that are related to your niche.
Take a look at our comprehensive guide to the best and most popular information ebooks and products available today on Detoxing, Colon Cleansing, Weight Loss and Dating and Romance. They are all in one spot, easy to find and compere to make a quick selection for the product that best fits your needs or wants.
So browse through a category and make your  preferred selection and come back here to read  more choice articles and get a few more helpful tips on ways to help your enhancement.
Detoxing Reviews
Colon Cleanse Reviews
Weight Loss Ebook Reviews
Dating and Romance Ebook Reviews

As an Amazon Associate I earn from qualifying purchases. "
saubiosaubiosuccess.com
is a participant in third party affiliate and advertising programs; The Amazon Services LLC Associates Program, and other affiliate advertising programs are designed to provide a means for sites to earn advertising fees and commissions by advertising and linking to products on other sites and on Amazon.com. Amazon and the Amazon logo are trademarks of Amazon.com, Inc, or its affiliates."